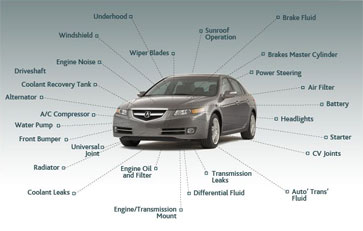 Whether you are in need of an oil change, electrical diagnostics or an engine rebuild, The Las Vegas Car Fixer has the expertise to take care of your vehicle. We provide multi-point inspections for your vehicle with any service which helps limit the amount of future repairs needed on your vehicle. We only use the correct parts for your vehicle. CarFixr is your one-stop shop for all of your automotive needs.
We service BMW, Mercedes, Volkswagen, Audi, Lexus, Toyota, Acura, Honda, Nissan, Infiniti, Jaguar, Land Rover, and Porsche cars, SUV's and trucks. It is our specialty. But, we can fix American or Domestic cars and trucks too.
Come by our repair and service center and experience the difference that professional mechanics with the right tools provide for you and your vehicle.
We provide the following to our clients:
Car Care Service:

Engine oil and filter change
Wheel bearings
Transmission fluid flushing
Power steering fluid flushing
Filter replacements
Windshield washers and wipers
Brake fluid flushing
Battery replacements
Various diagnosis and adjustments

Brake service:

Diagnosis of ABS/SBC/DSC/ASC
Pad replacement
Lining replacement
Hose replacement
Wheel cylinders
Master cylinders
Emergency brakes
Brake rotors and drums
Brake power boosters

Climate Control Systems:

EPA Section 609 Certified
A/C diagnosis and performance
Evaporators
Condensers
Expansion valves
UV dye or sniffer leak detection
HVAC Hoses
A/C Belts
Heater cores
Fan clutches
Auxiliary electric fans
After-run water pumps
Vent vacuum/electric valves
Fan clutches
Heater valves

Engine Terperature/Cooling:

Diagnosis
Pressure tests
Radiators
Hoses
Water pump belt
Heater cores
Thermostats
Fan clutches
Electric fans
Water pumps
Transmission coolers
Heater Hoses
Throttle body heaters

Manufacturers recommended maintenance:

3,000
10,000
20,000
30,000
60,000
90,000
100,000
120,000
150,000
180,000
210,000
240,000
BMW Inspection 1 and 2 (I, II)
BMW Service check
Mercedes Service A, B, C, D, E, F, G, H
VW 10,000 mile interval services
Audi 10,000 mile interval services
Porsche Minor service
Porsche Major service
Timing belts and chains
Porsche 20,000 mile interval services

Electrical Systems:

Diagnosis of all auxiliary systems
On board computer repairs
Service engine soon/Check engine light diagnostics
Vehicle maintenance light check
Alternators
Starters
Exterior and interior lights
Power windows, locks, and accessories
Heater controls
A/C controls
Climate Controls
Instrument gauges
Electrical wiring
Fault finding

Drive Train:

CV axles
CV joints
Drive axles
U joints
Differentials
Motor mounts
Center supports
Differential mounts
Transfer cases
Bearings
Seals

Fuel Systems:

Diagnosis
Carburetors
Gas fuel injection
Diesel fuel injection
Glow plugs
Fuel lines
Fuel hoses
Fuel tanks
Fuel gauges
Fuel pumps
Evaporative emmisions
Purge valves
Vent valves
Leak detection pumps
Fuel filters
Pressure regulators

Suspension Systems:

Diagnosis
Shocks/struts
Ball joints
Springs
Strut mounts
Air springs/suspension bellows
Control arms
Control arm bushings
Air ride systems
Active body control (ABC)
Ride height controls
AirMatic suspension
Conversions
Subframe bushings

Major Repairs:

Transmission rebuilds and replacement
Engine rebuilds and replacements
Cylinder heads and gaskets
Cylinder head jobs and replacements
Intake replacement and gaskets
Complete suspension rebuilding
Complete mechanical restoration